Star-headed Malo clubs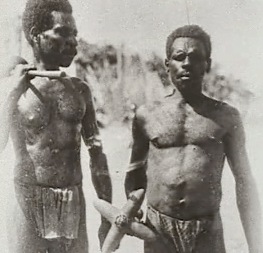 The sacred star-headed Malo clubs are described by Professor Haddon as 'beautiful examples of simple, unflanged, four-rayed, stone-headed clubs'. There were five altogether, and the Meriam refused to part with any of them to the team from Cambridge in 1898.

At the Malo rites performed on the sacred ground in front of the sacred house at Las village, the Shark brethren, descendants of the seven brothers of Las who kept Bomai, performed the five dances of Malo. The sacred chants were sung. The fifth and most sacred was for the star-headed Malo club where the club was passed from one dancer to the next.

Keywords: Las, Malo, Malo dance, songs
Still:Two men with star-headed clubs.
Author: Sharp, Nonie
© Courtesy of Haddon Collection, Cambridge University Museum of Archaeology and Anthropology. (Catalogue no: P 1142 ACH1)